Jack Herrick Youth Sports Fund
Mission Statement
The accomplishments and stories of the Greater Cleveland Sports Hall of Fame inductees provide inspiration for young athletes to pursue their dreams in sport. The GCSHOF fosters those dreams by providing grant funding to qualified youth sports organizations in the Greater Cleveland area. We hope supporting youth sports in our region will result in future Hall of Famers.
Our financial commitment, through the Jack Herrick Youth Sports Fund, is intended to fund specific, one-time capital or project-based needs of amateur, non-governmental youth sports organizations in our region that provide opportunity for youth of all backgrounds to participate safely in sports.
Grants are awarded annually, and preference each year will go to organizations that have not previously been funded. Grant applications will be announced at our annual induction ceremony.
A special endowment fund has been created to ensure the financial resources to support our philanthropic mission will be available well into the future. The GCSHOF is a non-profit, 501c3 organization. Donations are tax-deductible as allowed by law.
Donors may specify their gift is being made to the Jack Herrick Youth Sports Fund.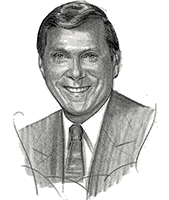 Jack Herrick (1938-2022)
A winner of numerous City, Northeast Ohio, and State Championships from 1966 to 1985 in Singles and Doubles Competition, Jack Herrick was a durable competitor. Jack was Captain of the U.S. Squash Team that competed in the World Championships in both 1983 (Auckland) and 1985 (Cairo). He was elected to the Dartmouth College Hall of Fame in 1985 and the GCSHOF in 1986.
Born and raised in Cleveland, Ohio, it was Jack's vision, dedication, and legendary stewardship of the Greater Cleveland Sports Hall of Fame that maintained the HOF as a civic treasure. A champion on and off the court, Jack Herrick devoted his life to celebrating achievements of others. For that, the Greater Cleveland Sports Hall of Fame is proud to establish the Jack Herrick Youth Sports Fund. 
Previous Recipients
2022 – Beat the Streets Cleveland
2022 – Youth Challenge
2021 – First Tee Cleveland
2021 – Urban Squash Cleveland